The Delaware Project is a very dear one to my heart. The  talented architect, Travis Harris from W Design, just HAPPENS to be my brother in law, amazing husband to my sister, and dad to my adorable nephew, Rowe. Travis has a great way of looking at the homes that he designs. He truly thinks about how a space is going to function. With regard to the Delaware project, Travis envisioned a family who would be entertaining kids and adults, with plenty of room for everyone to enjoy. It is one of my favorite projects to date.
Speaking of process, my design process is decidedly…organic. I definitely do mood boards and garner inspiration, but more often than not I end up deviating from whatever plan I initially put in motion. I do like to start with a concrete jumping off point though, and, FOR ME, that is typically the cabinets. We use a fantastic cabinet company here in Tulsa, Woodstock Cabinets. Tulsa is a big small town, and we just happened to go to high school with the owner (also named Clark), and we have worked together for over ten years. Custom cabinets are a big expenditure, but Woodstock Cabinets are one of the hallmarks of a CBC house. Since we warranty our houses for a year after purchase, we like to make sure we use the best possible product for such a large expenditure. Anywho, I knew I wanted natural, white oak cabinets for the perimeter of the kitchen. Here we are: a Scott, two Clarks and an Amanda, just talking cabinets.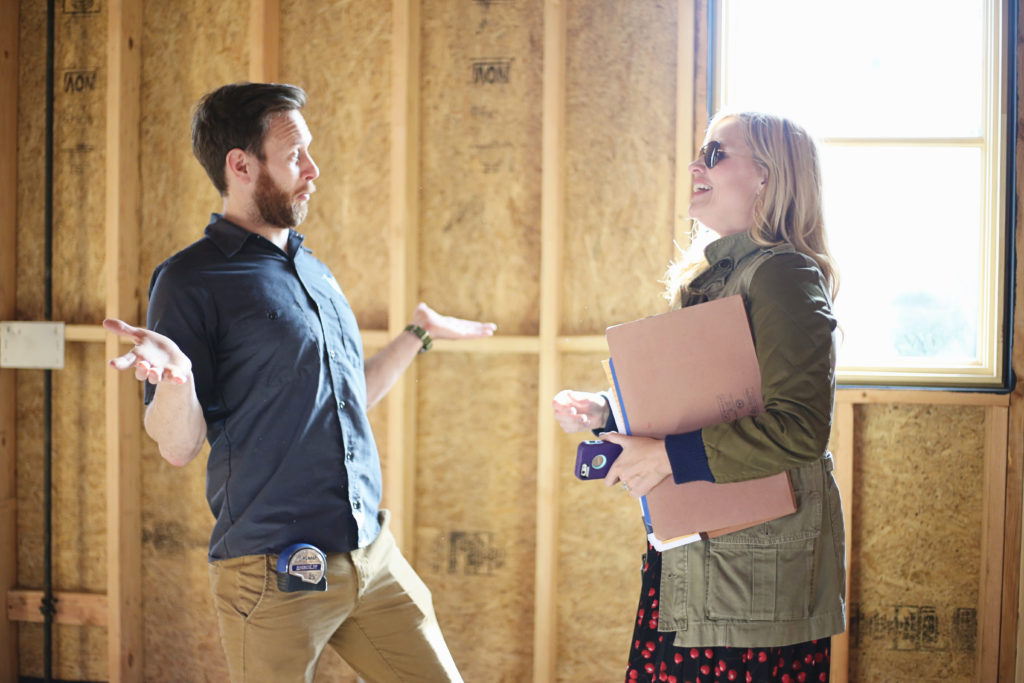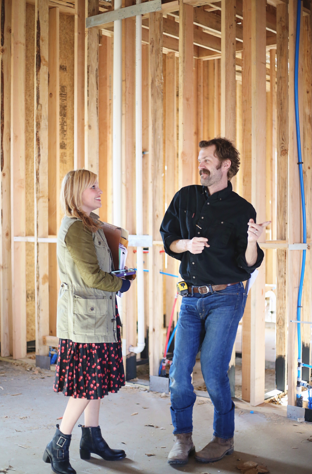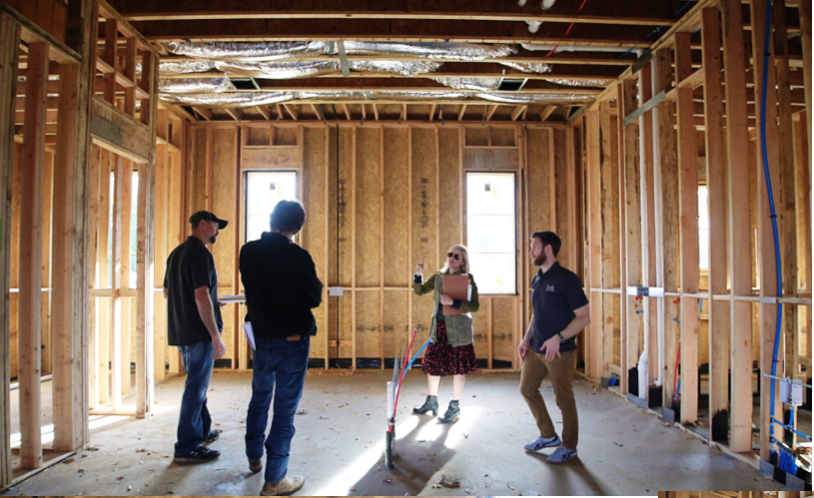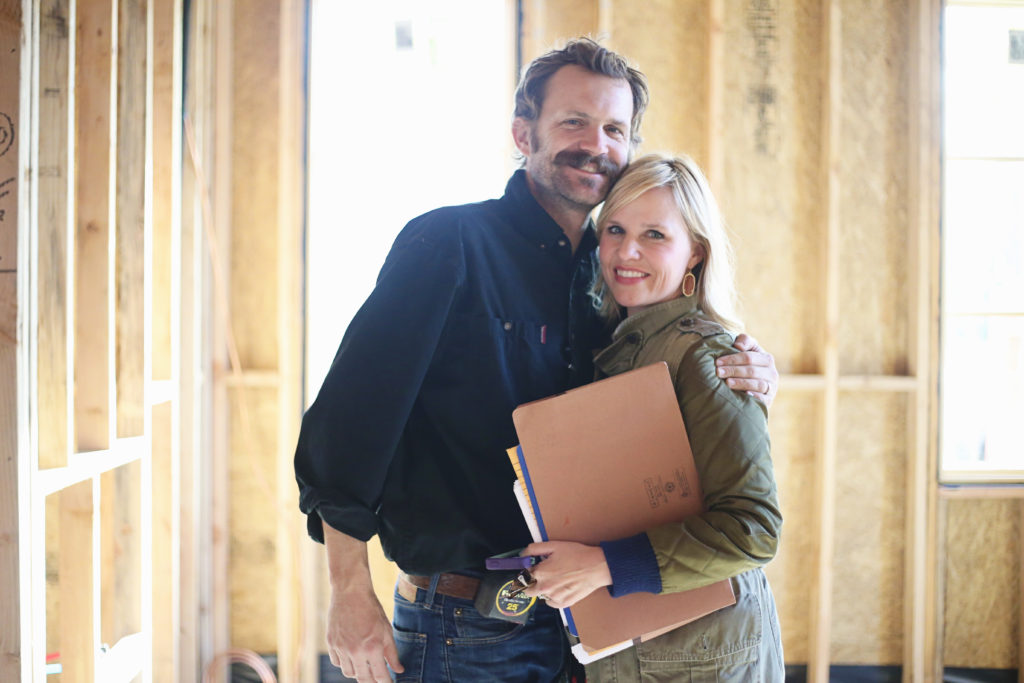 Ugh, that mustache. I DO NOT miss that. Also, we like to have fun. I am lucky to work with such awesome people. Full disclosure: I am wearing my sunglasses inside here because I had been up SUPER late the night before working on stuff for our kid's school with two of my besties…and there was definitely wine. Whoopsie.
ANNNYWHO. Since many of our projects are spec homes, I have to be incredibly attentive to the budget, while still designing a house that will be someone's home. After the natural wood cabinets, I knew I wanted three things FOR CERTAIN:
marble countertops and full slab backsplash with large veining in black or dark gray
modern doors/drawers with no hardware
very modern pendant light fixtures over the island
Let me tell you: NOT ONE of these things happened. It's not that these design elements aren't gorgeous—they are, and I have implemented each of them in kitchens before and since…but the more time I spent in the Delaware project, the more my mood board felt, well, too MOODY. This house was designed for family and fun and warmth—what I wanted was too cold. So I knew I needed to go back to the drawing board—so to speak—while keeping my original vision of natural wood cabinets.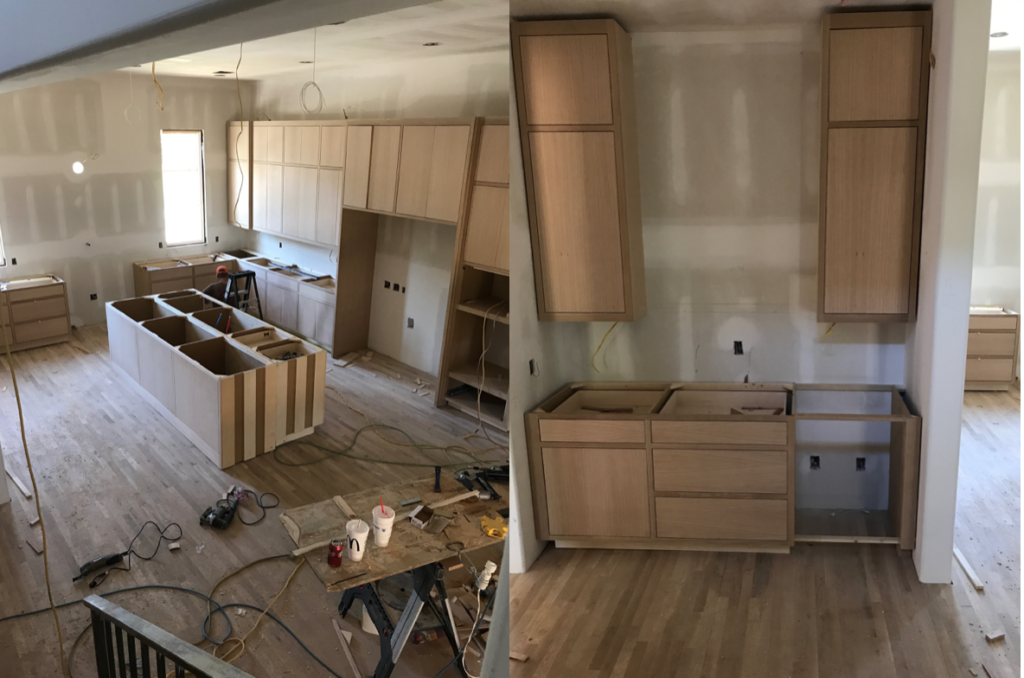 Soooooooo—I went to the next biggest expenditure in the kitchen (besides the appliances, which of course would be a whole post in and of itself), and that is the material we find for countertops. I headed out to our regular rock spots: Bedrock in Broken Arrow, and Pacific Shores in Owasso.
I LOVED both of these, but the funny thing about rock is that you have to use everything from the same "batch"—it wont match, even if it is same color. I needed 7 slabs for the countertops, and an additional six if I wanted a full slab backsplash.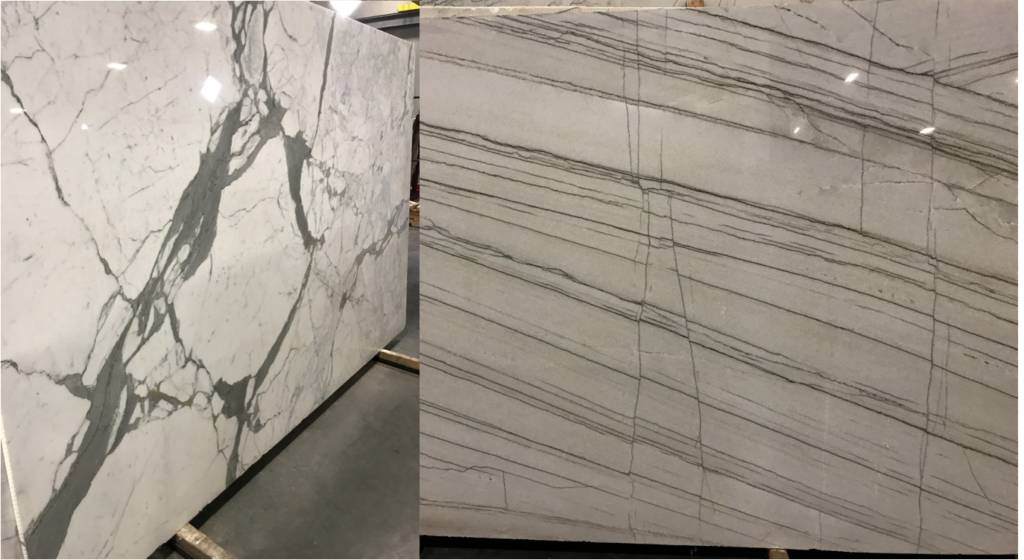 YIKES!!! 13 slabs is A LOT! Remember, this was a spec build–I don't have a client "bsnkz-rolling" their selections! I had to figure something out! Regardless though, I had to find a super cool stone that fit a million-plus dollar home…I couldn't find anything, until I came across this quartz from the Pacific Shores line!
Loved the veining, loved the color, and LOVED that they had six slabs available, I did this for the perimeter cabinets, bar area, and the pantry, and a gorgeous piece of soapstone (I didn't get a picture of it in the warehouse) for the waterfall island. I COULD NOT get the additional slabs I needed for the full backsplash though—plus, that is expensive stuff…it was wreaking havoc on my budget. I was sad, but ultimately I made the decision to go in another direction. I couldn't hold up the project by sourcing slabs from all over the country. Thankfully, I had been keeping my eye on the Zellige line of tiles from Cle Tile. Cle is a tile company that that is know for making VERY cool handmade and cement tiles—seriously, each one is a piece of art. BTW—they did not sponsor this post. I just genuinely love their products and think they are worth every cent! Shop them here: https://www.cletile.com/collections/all.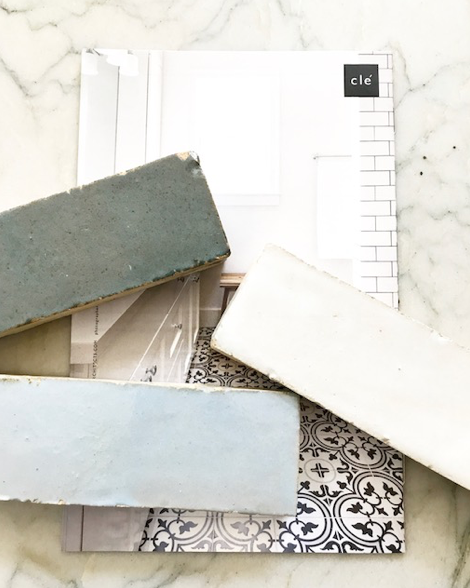 I had them send me several samples, and of everything they sent me, I dug these three the most for the Delaware project. From left going clockwise there are Zellige 2×6 Tempered Steel, Weathered White, and Shattered Pearl. All were really gelling with all the other tile choices I had made there (more on that later), but ultimately I went with the Tempered Steel. I had been toying with painting the island a similar color, and was really wanting to experiment with doing a dark cabinet with the dark soapstone countertops.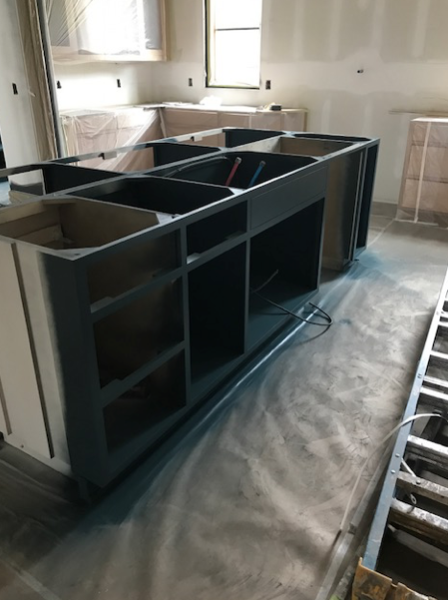 I bit the bullet and painted the island and pantry cabinets Newburg Green by Benjamin Moore. If you squint, you can see the AMAZING white oak cabinets in the background—they were sealed with a clear coat and nothing else.
Next up: countertop installation. We went light on light and dark on (semi) dark, and I LOVE IT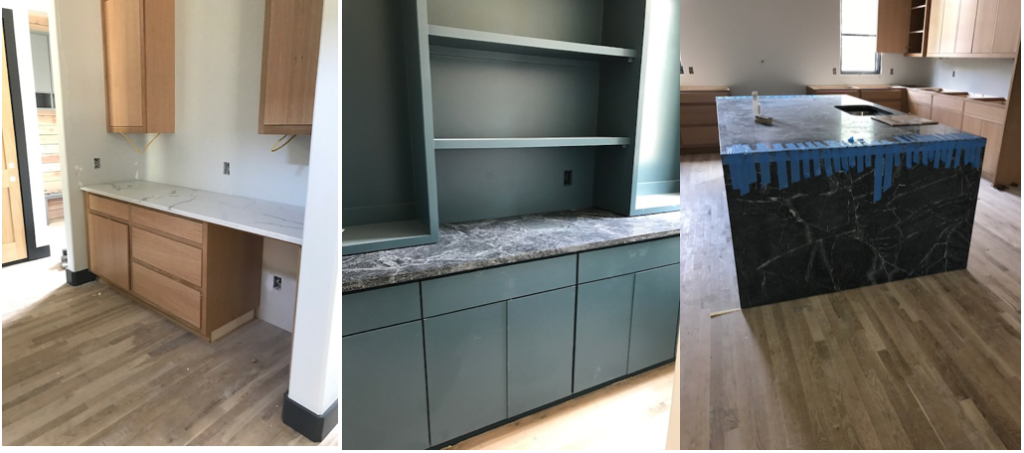 Obviously, we still have light fixtures, appliances, backsplash, etc still to go! Stay TUNED! But how AWESOME is this waterfall soapstone!! Swoon!